Ideas For Renovating Your Home Office
Posted by Nuwave at October 18th, 2017
With working from home becoming more and more common these days, it's important to have a productive, beautiful home office that will keep you focused and inspired. Below are three innovative home office ideas for your home here in Greater Detroit.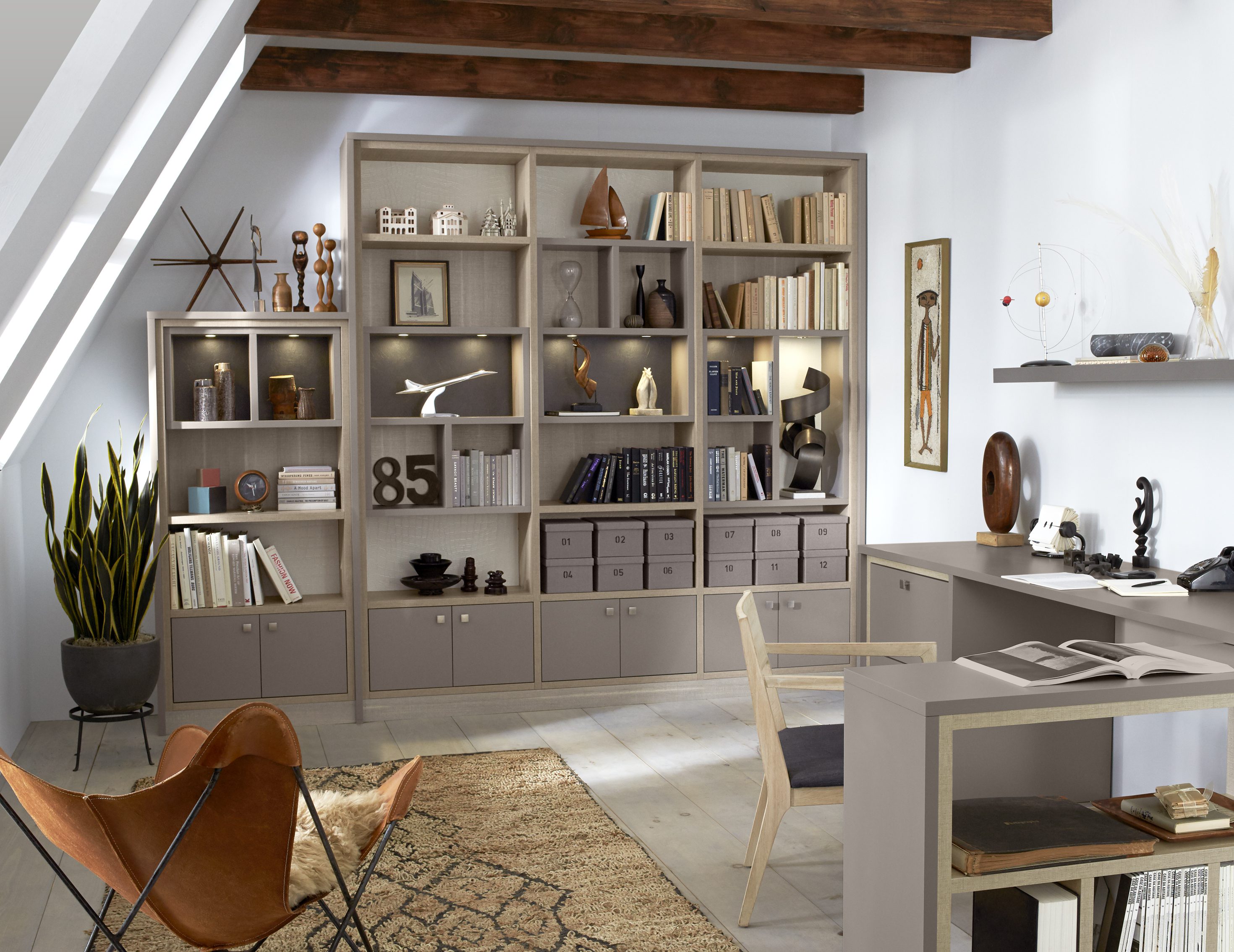 WORK/LIVE SPACE
For those who want more than just a workspace, a live/work space is a great idea to work and lounge in.
A monochromatic color palette and proper accent lighting elevate a home office to a relaxing gathering space.
Tesoro™ Pietra and Classic Cashmere create a monochromatic color palette.
Cashmere slab doors and drawers contribute to the seamless look.
Recycled leather veneer back panels in white and black add contrast and interest to the bookcase lighted cubbies.
Supermatte floating shelf provides a display for collectibles.
Puck lighting illuminates the space.
Tiered ceiling height to accommodate the sloped ceiling.
Waterfall edge on countertop adds a unique design element.
CONVERTIBLE OFFICE
For those limited on space, a convertible office is a wonderful idea. This way, you can house guests when they're in town and use as a home office at all other times.
Delivering the best of two rooms, this system offers a polished space to work and a hidden bed for guests.
Lago®Milano Grey finish and coordinating Milano Grey countertop create a seamless look.
Lago® Milano 5-piece Shaker fronts in grey contribute to the monochromatic color palette.
5-piece Shaker fronts with Ecoresin Fossil Leaf inserts add a natural accent.
Side-tilt wall bed provides sleeping a area as needed.
Puck lighting illuminates the space.
Decorative hardware adds finishing touches.
FAMILY WORKSPACE
For those with a family in mind, a family workspace is a genius idea to get kids to do homework and to help parents stay focused on bills and work.
With working and relaxing zones all in the same room, this system allows for productivity and comfort in one tailored space.
Classic White finish paired with the white walls lends an airy feel.
White slab drawer fronts contribute to the seamless look.
Cassini Beach countertops provide contrast and a natural touch.
Adjustable shelving creates flexibility for changing needs.
Integrated multiple workstations provide designated project and task areas.
Open overhead storage provides easy access to books and supplies.
If you're ready to think outside the box and create a home office that works for your home and family, contact the design experts at California Closets Greater Detroit. You'll receive a complimentary in-home expert design consultation to discuss your unique budget, space and goals for your home. Visit our Birmingham or Commerce Township showroom to find out more.
Source – California Closets
Category: Blog
Post Tagged with
home office furniture